We believe in leading by example to create a better world now and for generations to come. Since the creation of the ICDA, the sustainability dimension is at the heart of our project. Chromium contributes significantly to progress and innovation through its wide and varied applications. We strive to achieve the lowest environmental footprint possible as well as ensuring all materials are responsibly produced and sourced.
Sharing best practice
As a global industry community, one of the best ways to support a sustainable industry is to share best practices and scientific knowledge. That way we can all make a positive contribution.
Responsible Chromium members
Raw materials are used in a wide range of applications that directly or indirectly benefit the lives of millions of people across the globe. It is essential that we produce and sell our products in a safe and sustainable way. The social, ethical and environmental footprint of our products and services cannot be separated from the final applications they enable. Our industry has a duty and has set the highest standards to ensure a responsible product reaches the hands of users and consumers.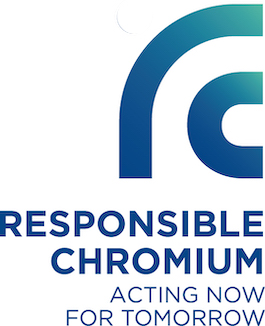 The work of our ESG committee, created in the early 1990s, contributes to the goal of ensuring a global responsible chromium industry. The committee, made up of members, scientists, toxicologists, experts and engineers, has developed an impressive technical and scientific knowledge base as well as publishing numerous research papers. This has enabled us to address any potential hazards associated with any industry's activities, and to adhere to regulatory requirements.
Our work is guided by the UN Sustainability Goals. For instance, we actively seek solutions to minimise our impact with decarbonisation being one of our top priorities, as well as innovative ways to save energy. Aligned with this, we urge local governments to accelerate their transition to low carbon electricity sources in order to support carbon neutrality targets being met by essential industries.
As an industry we provide essential raw materials for the benefit of today's society. In doing so it is important that we continuously monitor and quantify our environmental impact. This is a concern we take very seriously. Several studies have been funded since the 1990s to measure the environmental impact of chromium industry production processes. From Life Cycle Assessment (LCA), to the use of ferrochromium slag as a safe aggregate for road construction (saving primary resources), to our interest in biomass as a substitute to coking coal and our call for decarbonised sources of energy, we are committed to supporting a sustainable industry with the lowest environmental footprint.
We:
monitor CO2 emissions and our environmental impact
 fund studies to promote the safe use of chromium industry products and by-products saving primary resources
promote reuse and recycling where possible
support technological developments to lower CO2 emissions
encourage decarbonised sources of energy in producing countries.
Circular economy
ICDA members are committed to achieving net-zero emissions by 2050.
Circular economy strategies
of greenhouse gas emissions can be cut by circular economy strategies
Source: Ellen McArthur Foundation, World Economic Forum
While energy efficiencies and the use of renewable sources could cut 55% of greenhouse gas emissions, circular economy strategies can cut the remaining 45% to reach the global net zero goal.
Principles of circular economy
1

Eliminate waste and pollution
Our members are committed to safe product handling, disposal, use and waste management to protect people and the environment. ICDA members are continuously investing in research and development to find new and improved ways to produce minimal waste and to make intelligent use of by-products. For example, HC FeCr slag is currently used as an aggregate for road construction in several countries, thus saving primary resources.
Whilst we are dependent on national grids and political choices with regards to energy, our members have decided to address the issue with significant investment in energy efficiency technologies and clean energy generation to reduce dependence on fossil fuels and reach the net-zero goal by 2050.
2

Circulate products and materials
The intrinsic properties of chromium make it a champion of longevity. Chromium provides anti-corrosion benefits making materials that can last forever without compromising on efficiency, safety and aesthetics. Stainless, alloyed and special steels containing chromium are 100% recyclable, saving energy and primary resources.
Our members are committed to responsible production, sound management of production sites and their safe rehabilitation. Several of our members invest a significant proportion of their profits in environmental and biodiversity protection.
Energy challenges are one of the key issues facing industries and society in today's world. Download our series of interviews with experts from across the energy sector which provide insights into how recent events and trends will impact the market. Join the ICDA membership for latest news and interviews on this issue.
Photo credits: Anglo American, TNC Kazchrome JSC – Eurasian Resources Group